How To Tackle Tax Season as a Homeowner or Home Buyer
Blog posted On February 16, 2022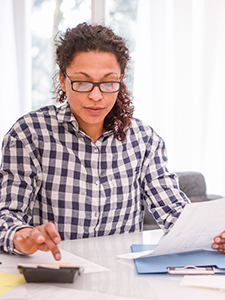 Everyone's favorite season of the year is here. Not spring, summer, fall, or winter, but something even better – tax season! The deadline for filing your federal income taxes is in mid-April, but you can start submitting them now. Over the next several months, you'll be receiving many different documents that you will need before, during, and after you file your taxes. If this is your first time filing taxes as a new homeowner or hopeful home buyer, make sure to be on the lookout for these important documents.
If you are a current homeowner, make sure you collect your:
1098 form – A 1098 form is your mortgage interest statement. You will use this to report the amount of interest and cost of expenses paid on a mortgage during the tax year. Expenses can include points. A 1098 form is important because it will allow you to deduct your mortgage interest from your taxes.
County property tax bill – This is determined by your local government and will be paid by you to your county as a result of owning property in that location. Your local government will then use these funds to make improvements within the county. The amount you will owe on your property tax bill is determined by multiplying the county property tax rate by the current market value of your property.
Tax refund – Your tax refund is probably the most fun document you'll receive over the next several months. If/when you overpay on your federal or state taxes, the government will issue a reimbursement.
If you are a home buyer, make sure you gather your:
Last two years of federal tax returns – When you get your tax returns this year, make sure to keep them in a safe place if you plan to buy a home soon. Additionally, you want to gather your tax returns from last year as well. This will all be important when applying for a mortgage.
Last two years of business tax returns – This is important for self-employed borrowers to collect because it will be required in your mortgage application.
Tax refund – Whether you're a homeowner or not, you will be able to benefit from a tax refund if you overpaid on taxes.
How can you put your tax refund to good use?
Pay down high interest debt or existing bills

Finance home improvements or renovations
When you see an important tax document arrive in the mail, make sure you upload it to your tax software, keep it in a safe place, or give it to your tax advisor as soon as possible. If you need any important documents from us like closing disclosures or other information, let us know!