A Step-by-Step Guide to Downsizing as a Retiree
Blog posted On September 23, 2021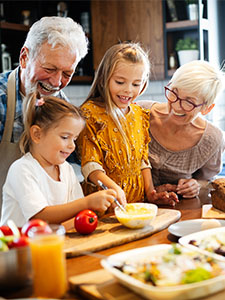 Change can be hard – whether you're a first-time home buyer adjusting to home maintenance or a retired homeowner moving to a smaller place. Going from what you've known to something new isn't always easy – especially if it's what you've known most of your life. Downsizing homes as a retiree can almost feel like you're a first-time home buyer all over again. But in a few simple steps, you can go from experienced homeowner to successful home seller in no time.
Deciding if it's time to downsize
Making the decision to downsize can be difficult. Many retirees make the switch for at least one of the following reasons:
Relocation – Maybe you're tired of the city or suburban grind. Or maybe you want to move closer to family. Whatever your reason, it's worth exploring your different options!
Convenience – Big family homes can be a lot to maintain. For many retirees, it's simply easier to downsize to a more maintainable home. Other people might want to transition from a four-story townhome to a ranch-style home without stairs.
Profit – Listing your home in a seller's market offers many advantages – one of which is the offers that are often above asking price.
Budgeting for a downsize
When budgeting for a downsize, consider:
Your current mortgage costs – Make a list of all the costs you currently pay as a homeowner. If you've completely paid off your mortgage, consider your utility bills, maintenance costs, HOA fees, and any other monthly expenses associated with your house. Then compare the total cost of your current home to the costs of your future home. For help, check out our mortgage calculator page under our "Resources" tab.
Your financial goals – When do you want to retire? How much money do you want saved up for retirement? Do you plan on taking out another mortgage?
The costs of selling a home – Even in a seller's market, there are associated fees with selling your home. All home sales will come with closing costs. In addition, you might have to pay for a home inspection or home repairs. If you're using a real estate agent, then you will have to pay their commission as well.
Preparing for the next move
After you've assessed your financial goals, you can start making more concrete plans for the transition.
Hire a REALTOR® – You might opt to sell your home on your own. This way, you can avoid REALTOR® commissions. However, real estate agents offer a great level of expertise in guidance throughout the home selling and homebuying processes. If you're looking for a trusted REALTOR®, start by asking around. Ask your friends and family if they have any good recommendations – chances are, they will. If not, you can always ask us – we have plenty of good recommendations in your area!
Decide on a location – Do you want to escape to a mountain cabin? Do you want to soak up the sun on the beach? Or do you want to move closer to family and enjoy the good family moments? There's no right or wrong answer. But if you're moving to a completely different part the country, it might be a good idea to start searching for real estate agents in that area. This way you have eyes and ears on the ground, that know the community well and can help you find a place.
Determine your preferred style of home – Do you want a single-family home? Do you want a one-story home? Are you looking for a condo? Do you want to be a part of a specific community?
The last step would be shopping for a mortgage. Downsizing in retirement is a different financial scenario than buying your first home. Before you pick your mortgage, consider talking to us. We would love to help you explore all the other options out there and find the perfect mortgage solution that meets all your home financing needs.
Sources: Bankrate